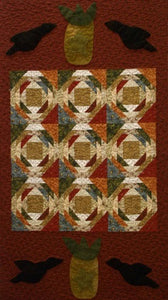 Pineapples & Crows Primitive Quilt Pattern features pineapples and crows and the top and the bottom. Quilt features a rich, burgundy, and other primitive colors. Finished size: 20" x 36". A perfect project for the primitive lover.
Please note you are purchasing a digital copy of Pineapple & Crows Primitive Quilt Pattern. Nothing will be mailed to you. If you would rather receive a physical copy of this pattern, please purchase here.
Please note that this purchase entitles you to one digital copy of Pineapples & Crows  Primitive Quilt Pattern for your personal use only. Pattern may not be reproduced, shared, resold or duplicated. Jeni Gaston retains copyright. Commercial use is strictly prohibited.