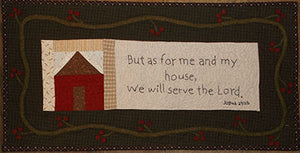 As for Me and My House is a primitive quilt pattern featuring a primitive house with verbiage that reads "But as for me and my house, we will serve the Lord", surrounded by a vine of red pip berries. Finished quilt 11.5" x 23". A lovely inspirational quilt perfect for any home. Price does not include tax and shipping. 
This product is a digital download. If you would rather be mailed a physical copy of this pattern, please purchase here.
Please note that this purchase entitles you to one digital copy of As For Me and My House Quilt Pattern for your personal use only. Pattern may not be reproduced, shared, resold or duplicated. Jeni Gaston retains copyright. Commercial use is strictly prohibited.